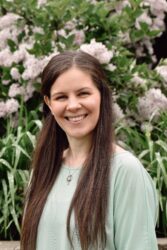 I have been with the Midwives of New Jersey Since September 2012.  I have a beautiful daughter Madison and I am happily married to my husband Mark. I started at the Midwives in 2012 by fate because at the time I was a single mom working at a daycare that had just closed down.  I was looking for a job and heard that the Midwives were hiring a front desk receptionist, so I figured I would try it out.
As soon as I started working here I fell in love with this place and the change they wanted to make for all women to have the best care possible.  I love our patients, I love being a part of a practice that helps women have an amazing birth experience starting from the beginning of the pregnancy all the way until postpartum and beyond.
When I first started, I was just working at the front desk, until about 2013 when I was given the opportunity to go to Doula training. I also went to Tennessee to get trained to be a Midwife Assistant at Ina May Gaskins Farm. I am so beyond thrilled to be able to experience not only our clients prenatal care but also to be a part of their birth experience which is one of the most important and empowering moments of our clients lives; I am so grateful to be able to be a part of this moment.  My life has changed from the first day I worked  at the Midwives to now and I am beyond blessed and grateful to be a part of this practice.