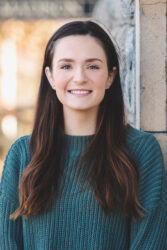 Erin's path towards becoming a Midwife Assistant began in the classroom of her anatomy course at
Bloomsburg University of Pennsylvania. She was blown away by how resilient the female body is- and shocked that mothers don't get more credit for all that they do! While pursuing her Bachelor's Degree in Health Sciences and Medical Genomics, she hoped to one day serve women as they transition into motherhood. It wasn't until she met Christina Garlewicz, MWNJ Director of Operations, through a babysitting position, that she realized her path would lead to the Midwives of New Jersey. Since joining the practice in May of 2020, she has loved getting to connect with clients both in the office as well as at births, and has also become a trained birth doula!
Helping and supporting women throughout their pregnancy- one of the most beautiful and transformative times in a person's life- is exactly what Erin feels she is meant to do. Erin believes that expecting mothers should feel uplifted and understood throughout their pregnancy and childbirth, and feels incredibly privileged to be able to provide support to MWNJ's clients. Outside of the office, Erin is a life-long New Jersey native who loves country music concerts, hiking with her dog, and rewatching Grey's Anatomy.