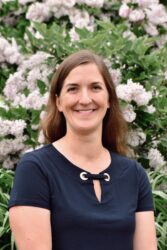 I always knew I wanted to be a nurse. After graduating from the Ohio State University with my BSN, it became clear to me that Labor and Delivery was where I needed to be. I married my husband a couple years after graduating, moved to Colorado, started a family, and enjoyed the many wonderful experiences and outdoor life Colorado had to offer.
I worked on a LDRP unit in Colorado for 10 years and absolutely loved it. I was able to work in the different areas of the maternity unit, including Labor and Delivery, Postpartum, Nursery and the OR. I also taught Childbirth classes and I was a clinical instructor for nursing students.
In 2014, we moved to the east coast with our kids, Aspen and Ethan, and settled into the area of New Jersey. I worked on a Labor and Delivery unit and additionally began working at Our Birthing Center a few years later. It was there where I witnessed the amazing calmness, atmosphere, and pace the midwifery model of care provided.
It was also at the birthing center where I met Lisa and the ladies of MWNJ. When the opportunity to work at the MWNJ office presented itself, I eagerly accepted it. I look forward to seeing you at your postpartum check-ups or I may even be there for you while you are laboring in the tub at the birth center!