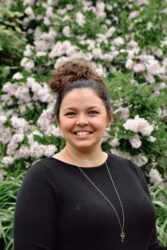 Grace Rodgers began working with the Midwives of New Jersey in July of 2017. While attending nursing school at St Luke's University Hospital in Bethlehem, Pennsylvania, Grace applied for her first job in healthcare. She applied for a nurses's aide position in several different medical specialties but ultimately was hired to the Maternity Unit, where she worked primarily on the postpartum wing and nursery. This is an interesting coincidence, since Grace's mother is a Midwife (Lisa Lederer) and she had grown up surrounded by pregnancy and birth. Despite her upbringing, Grace believes her passion for women's healthcare originated with that first job in nursing school.
Following graduation from St Luke's Diploma of Nursing program in 2012, she accepted a staff nurse position on the same unit she worked as an aide. She then moved to Labor and Delivery at Morristown Medical Center in 2014.
While working at Morristown Medical Center's Labor and Delivery unit, Grace finished her Bachelor of Science in Nursing through Thomas Edison University in 2016. Grace continued to learn and grow as a nurse, joining the Our Birthing Center staff in early 2018. Later that year, Grace left her position at Morristown Medical Center to accept the position of Nurse Coordinator at Our Birthing Center.
Grace strongly believes in each woman's right to informed, personalized care throughout pregnancy, childbirth and beyond. She counts herself fortunate to help provide that kind of care at the Midwives of New Jersey. Grace and her husband Tim share one daughter Winnie, born at Our Birthing Center, and look forward to the birth of their second child due in June 2021.