What is Chlorella?
The Midwives of New Jersey currently recommend Chlorella for several different purposes. Chlorella is a single cell, fresh water green microalgae that is loaded with large quantities of bioavailable folate, vitamin B-12 and iron, potassium, selenium, magnesium zinc, and calcium. It supports natural detoxification, digestive health, immune function, inflammation reduction, antioxidant function, estrogen balance, cholesterol metabolism, and circulation. It is one of the top nutrients for excretion of toxic metals (Source).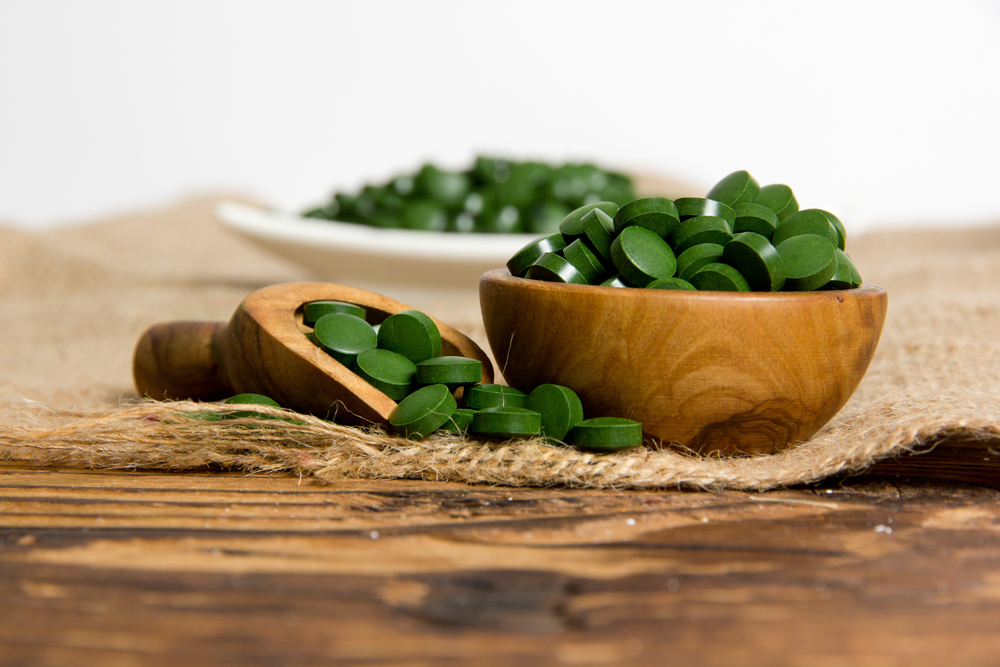 Preconception Use
Chlorella assists in the elimination of heavy metals and other toxins. We recommend both men and women detoxify prior to conception because there is evidence that babies absorb the toxins in their mother's blood. Newborn cord blood has been found to contain traces of as many as 200 environmental toxins (Source). When both parents make lifestyle changes recommended in our How to Make a Baby program for several months prior to conception (like supplementing with Chlorella), their sperm and eggs mature in a healthier environment and will likely result in a healthier mom, baby and placenta.
Supplementation During Pregnancy
We also recommend Chlorella supplementation to our pregnant clients to improve pregnancy and birth outcomes and to boost your chances of realizing the birth you are planning .
This superfood helps reduce the toxic burden to your growing baby. Chlorella decreases the concentration of dioxins (environmental pollutants) transferred via the placenta to your developing fetus and decreases the dioxins in your breastmilk by 30% (Source). Dioxins cause cancer, interfere with normal hormone function, and damage your immune system. Dioxins are highly toxic and are one of the causes of reproductive and developmental abnormalities in women and their children (Source). Also studies have shown that Chlorella supresses the transfer of mercury in the mother's body and diet to the fetus (Source).
Chlorella is such a good source of iron that women who regularly supplement with about 5 grams a day from the beginning of the second trimester on are much less likely to be anemic at the end of pregnancy. This is significant benefit to the women in our practice because anemia is a factor that risks women out of home and birth center births.
Another advantage of regular chlorella supplementation is a decreased incidence of pregnancy induced high blood pressure symptoms like protein in urine and swelling of hands, feet and face (Source). Women should not have an out-of-hospital birth once diagnosed with Pregnancy Induced Hypertension. Even in hospital births, anemia and elevated blood pressure takes a significant toll on your birth plan. These women will likely need Intravenous access, continuous fetal monitoring, and could be excluded from using the birth pool. This supplement is one of the easiest ways to keep your birth plan on track.
As an Anti-Breast Cancer Agent
Breast cancer is believed to be caused by environmental, genetic and/or hormonal factors. American women have a 12% risk of being diagnosed with breast cancer in their lifetime. Exposures to environmental toxins like heavy metals and dioxins found in the air and in our water can be mitigated by Chlorella because it binds to and eliminates metals like lead, mercury and cadmium and other toxins from your body (Source).
Cancerous tumors grow more easily in bodies where cells cannot repair themselves properly and they do not have access to the nutrients needed to create or replace cells completely (Source). Once a woman is diagnosed with breast cancer, supplementing with Chlorella supports anti-tumor activity in people with breast, ovary, skin, lung, colon, kidney, stomach carcinoma (Source). In addition to this supplement's many other health benefits, there is benefit in recommending broken cell wall chlorella for prevention and treatment of breast cancer.
You can order the Chlorella that the Midwives of New Jersey have thoroughly researched and recommend in our on-line store, The Essential Market.
Disclaimer: The Content provided on this site is not intended to be a substitute medical advice, diagnosis, or treatment. Always seek the advice of your health provider with any questions you may have regarding a medical condition. Never disregard professional medical advice or delay in seeking it because of something you have read on this Website.