Please sign our petition in favor of individual Midwife Waivers
I am in support of the efforts of Midwives across the state of New Jersey who have requested a waiver to the portion of the Midwifery Regulations that requires Midwives to have a written practice agreement with an OB/GYN:
Section 13:35-2A.6 – Consulting physicians; clinical guidelines (a) Prior to beginning practice as a midwife, a licensee shall enter into a consulting agreement with a physician.
I am a supporter of the Midwives at Hackettstown Midwives LLC (dba Midwives of NJ, LLC). I have been informed that there are no physicians in our area willing to sign a consulting agreement to cover home birth, so the Midwives of NJ (MNJ), will no longer be able to offer home birth after 13 successful years.
I urge you to consider the following ramifications of this change to the MNJ private Midwifery practice, the health and well-being of the families of New Jersey and the profession of Midwifery as a whole.
1. Expectant parents who were planning a safe, legal home birth must now find an alternative birth site or provider. For some this is just weeks before they are due.
2. This places a hardship on these Midwives who have already invested considerable time and finances preparing for a safe home birth for their clients.
3. With the only real options to go to a hospital or birth center, these expectant parents risk exposure to COVID-19 and restrictive policies on labor and delivery due to the current resurgence of the virus.
4. Birthing people are denied access to all available choices for evidence-based maternity care in New Jersey
5. Allowing the practice of Midwifery to be controlled by its direct competitor, OB/GYN's in the industry is like inviting the fox to guard the henhouse. The doctors are clearly able to maintain their monopoly in maternity care by keeping the Midwives under their control.
6. Lack of access to homebirth providers/Midwives may increase the incidence of "free-birthing" (giving birth without a qualified provider in attendance) which should not be chosen
because providers and/or resources are not available.
Please, carefully review this situation and grant emergency waivers for these Midwives who can bring homebirth back to New Jersey.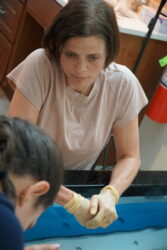 Latest Signatures
174
Mrs. Kristin C.
Mar 14, 2022
173
Ms. Molly D.
Jan 16, 2022
172
Ms. Ana C.
Jan 13, 2022
171
Ms. Priscilla D.
Jan 12, 2022
170
Ms. Stephanie H.
Jan 08, 2022
169
Ms. Brenda F.
Jan 07, 2022
168
Ms. Bethany S.
Jan 07, 2022
167
Mrs. Erin H.
Jan 05, 2022
166
Mr. Lonnie F.
Jan 05, 2022
165
Ms. Alessandra C.
Jan 05, 2022
164
Mrs. Sabrina R.
Jan 05, 2022
163
Ms. Angelica G.
Jan 05, 2022
162
Mr. Adam K.
Jan 05, 2022
161
Mrs. Susan L.
Jan 05, 2022
160
Ms. Rachel F.
Jan 05, 2022
159
Mrs. Melissa M.
Jan 04, 2022
158
Ms. Ericka S.
Jan 04, 2022
157
Mrs. Patricia C.
Jan 04, 2022
156
Ms. Marissa Z.
Jan 04, 2022
155
Mrs. Kayla D.
Jan 04, 2022
154
Ms. Skylar O.
Jan 04, 2022
153
Ms. Amanda S.
Jan 04, 2022
152
Ms. Amber P.
Jan 04, 2022
151
Ms. Sarah M.
Jan 04, 2022
150
Ms. candace o.
Jan 04, 2022
149
Mr. Craig B.
Jan 04, 2022
148
Mr. Jeremy R.
Jan 04, 2022
147
Mrs. Tammie F.
Jan 04, 2022
146
Ms. Barbara W.
Jan 04, 2022
145
Mrs. Jeni R.
Jan 04, 2022
144
Mrs. Nina D.
Jan 04, 2022
143
Ms. Jason B.
Jan 04, 2022
142
Ms. Angela B.
Jan 04, 2022
141
Mrs. Inés S.
Jan 04, 2022
140
Ms. John S.
Jan 04, 2022
139
Ms. Kim A.
Jan 04, 2022
138
Ms. Anna K.
Jan 04, 2022
137
Ms. tracy c.
Jan 04, 2022
136
Ms. Linda C.
Jan 04, 2022
135
Mrs. Emily H.
Jan 04, 2022
134
Ms. Brittany S.
Jan 04, 2022
133
Ms. Lauren G.
Jan 03, 2022
132
Mrs. Danica L.
Jan 03, 2022
131
Mrs. Jessica K.
Jan 03, 2022
130
Mrs. Christine M.
Jan 03, 2022
129
Ms. Ruth M.
Jan 03, 2022
128
Ms. Carla N.
Jan 03, 2022
127
Ms. Vanessa V.
Jan 03, 2022
126
Ms. Christine D.
Jan 03, 2022
125
Ms. Jennifer B.
Jan 03, 2022
<< < > >>