The Midwives of NJ created the New Jersey Symposium for Physiologic Birth as part of our commitment to educate on and elevate evidenced-based, physiologic birth practices.
This year the Symposium is pleased to announce that we are hosting a webinar series a Spotlight on Midwifery showcasing the practices and wisdom of Midwifery.
Spotlight on Midwifery Webinar 1: State of Midwifery – 2020 and 2021
Presented by Dr. Ginger Breedlove, Founder of Grow Midwives and Lisa Lederer, President of the Midwives of NJ.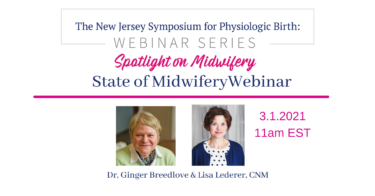 The Webinar will Explore Topics Including:
The pandemic's impact on trends in birth choice and birth setting in 2020
National legislation concerning Midwifery such as increased funding for Accredited Midwifery programs to increase access to Midwives
Barriers facing Midwifery as a profession
Challenges in setting up an independent Midwifery practice
Much more!
Spotlight on Midwifery Webinar 2

: Intermittent Auscultation: Listening to Evidence & Expanding Safe Options for Physiologic Birth

Presented by Amy Romano, Founder of Primary Maternity Care and Lisa Lederer, President of the Midwives of NJ.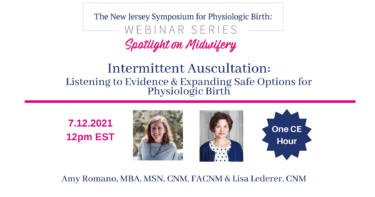 The Webinar Explores the Following:
Introduction: Why listen when you can look?
Evidence for intermittent auscultation
How IA supports efforts to reduce the cesarean rate
Improving safety and reducing risk with IA
Why do providers typically rely on EFM?
Barriers and Facilitators
Patient care factors
Workforce factors
Environmental factors
Structural factors
Best Practices for Introducing and Improving IA Practice
Introducing IA where EFM is dominant
Strengthening IA where it is already happening
Common best practices
At the Conclusion of This Webinar, You Will be Able to:
Articulate the benefits of intermittent auscultation (IA) compared with continuous electronic fetal monitoring (EFM)
Identify barriers and facilitators to implementing intermittent auscultation in hospital settings
List effective strategies for introducing and strengthening intermittent auscultation for low-risk labor