The Midwives of New Jersey added this birth choice in early 2018. Birth center care is a safe alternative to homebirth and is endorsed by the American College of Obstetricians and Gynecologists.
Background on Birth Centers
The first birth center in the United States opened in New York City in 1975. The Childbearing Center was an innovation in birth options resulting from the women's movement in the 1970's. The result of this birth center experiment was cost-effective care with good birth outcomes for moms and babies. The birth center choice became a viable alternative to hospital-based birth. Many birth centers closed in the mid 1980's when the main company supplying liability insurance for Midwives and birth centers withdrew its support. But this option never completely stopped being available to women and their families and now there are over 350 free-standing birth centers.
Birth Centers in New Jersey
New Jersey had no birth centers for almost 20 years until 2018 when Our Birthing Center opened its doors only 5 short minutes from Morristown Medical Center. The Midwives of New Jersey, already experts in out-of-hospital birth, started catching babies at Our Birthing Center in March of 2018.
Are Birth Centers Safe?
Studies have shown that birth centers are not only a safe choice for people at low-risk for birth complications, but the same group of low-risk women have better outcomes from birth center care over a hospital birth.
Part of the safety net of a birth center is a built-in plan for transfer. Birth centers are almost always found near a hospital. Our Birthing Center is a quick 5-minute drive from Morristown Medical Center. An emergency transfer can be accomplished via ambulance in the rare circumstance that it is necessary. Most transfers to the hospital are non-emergent and can be accomplished in the couple's own car. The most frequent reason for transfer is slow or no progress in labor. Women are also transferred for pain management.
Women who deliver in birth centers have low-risk pregnancies.
Benefits of Delivering in a Birth Center
4 x's fewer cesareans (6% as opposed to 27%) (Source)
Less preterm birth
Less low birth weight (Source)
Less than 2% of women who choose the birth center setting will require an urgent transfer for either mother or newborn. The stillbirth and newborn death rates are comparable to rates seen in other low-risk populations (Source)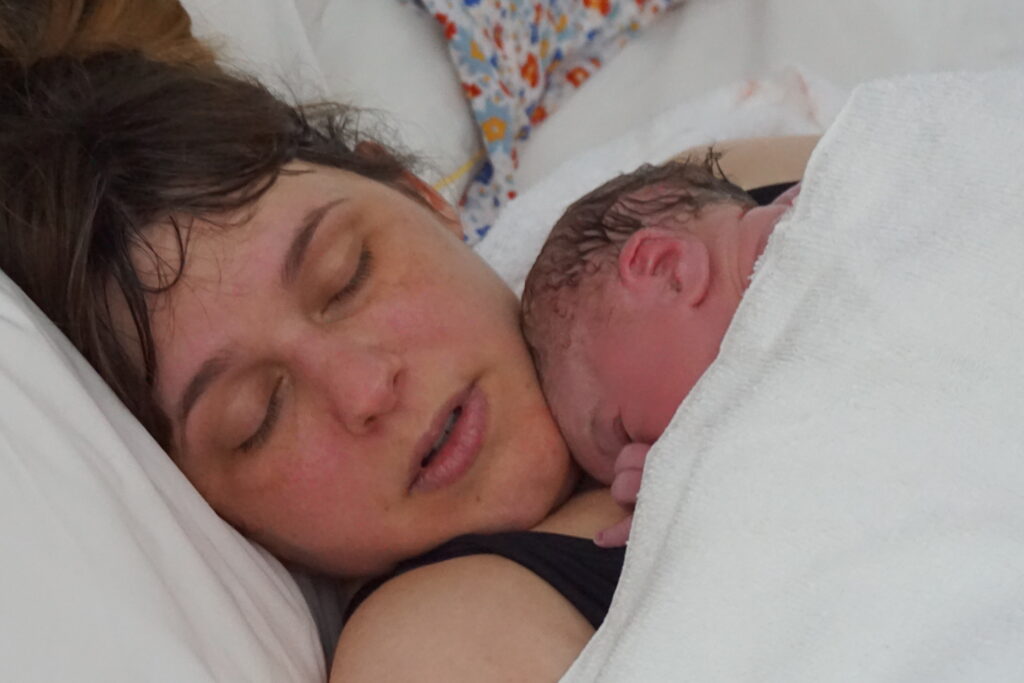 Why Choose a Birth Center?
Because birth centers are not familiar to women in New Jersey, they might wonder why a person would want to deliver outside of a hospital. Birth Center care allows for a more comfortable, personalized delivery with as good or better outcomes than in a hospital.
Birth Center care embraces physiologic birth with its patient-friendly policies.
Birth centers are recommended birth sites by the American College of Obstetricians and Gynecologists (Source).
Women have more choices in the birth center because the care can be tailored to fit each person's needs and desires. There are safety and hygiene guidelines as well as a basic patient care structure but overall laboring women birth better when they don't have to follow policies designed by a large institution to mechanize the care.
Women who choose a birth center birth with a midwife have fewer cesareans than those same low risk women who choose a hospital birth with a midwife.
Women Might Choose a Birth Center Birth over a Homebirth for Some of the Following Reasons:
Their home is far from our transfer site or any hospital
They want the option of Nitrous Oxide or intravenous medication for pain relief
Their home is too small or has thin walls with neighbors next door or live with family members
Do not want to be in the hospital but prefer to be VERY close to it with a plan for easy transfer
Birth centers do not seem as radical as homebirth, they are a middle-ground between home and hospital birth.
They want to be out of the hospital but prefer to leave their kids at home
Transfer to Hospital
Most women admitted to the birth center deliver at the birth center. The decision to move to the hospital for the remainder of the labor and birth is rarely an emergent one. Common reasons for transfer to the hospital include lack of labor progress, maternal fatigue and pain management. In these cases, the woman and her partner will move to the hospital in their own car with the Midwife following behind.
The Midwives and nurses are skilled at managing the common complications of childbirth in the birth center and they rarely require transfer to the hospital but Our Birthing Center has a plan for transportation to Morristown Medical Center should the need arise.
Olivia was our first mom to deliver at the birth center. She was expecting her first child and wanted the freedom to give birth without the common restrictions of the hospital. For that reason, she had sought midwifery care at the Midwives of New Jersey. Olivia was thrilled when the birth center became an option for her. She arrived at the birth center already in transition. Our first birth center birth was a beautiful, peaceful waterbirth thanks to Olivia and Our Birthing Center. We are very grateful to have this birth option available for our clients and look forward to many more births.