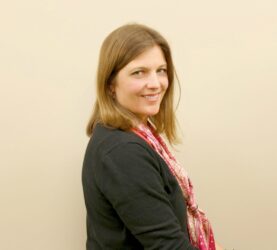 I bring the most reputable and evidence-based training to childbirth education, breastfeeding support, and doula care. I've worked as a doula and educator in northern New Jersey since 2002 and I have a true reverence for birth and a passion for supporting growing families.
Teaching childbirth and breastfeeding classes and supporting new parents during postpartum and lactation at the Midwives is such a joy. In many ways, a doula's job is to facilitate connection- between couples, with providers, with your own strength, and with your baby. That's what I get to do every time I come to work- its wonderful!
My years of experience helping families through birth has only solidified my belief that giving birth can be both transformational and triumphant. People are truly amazing, and every birth I go to reminds me of that. When I'm not supporting clients, I am usually surrounded by my dogs and cats, reading for as long as I can before making my kids a snack.