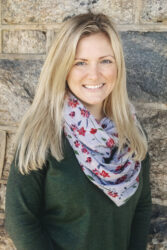 My journey with the Midwives of New Jersey began by chance. I was 32 weeks pregnant with my first baby, and transitioning care from New York to New Jersey. From my first call to the office, the Midwives were wonderfully accommodating. I quickly grew to love each Midwife and the time I spent with them. My first waterbirth was everything I wanted. I am sure that things would have gone very differently for myself and my daughter had I chosen the medical model of care.
After that, my interest in a career in birth and Midwifery began. I was sure that I wanted to work in the Midwifery field but was also happy being a stay-at-home mom! After my second child was born, I offered to help with any projects that MNJ had. I was dying to work with the Midwives in any capacity I could (flying high on birth hormones!). In 2010, I worked with the Midwives on their "10 years of Waterbirth" conference and planned a few small educational lectures. Then, on Christmas Eve of 2010, Lisa called and asked me to work at their new office. I said yes immediately, probably before she even finished giving me the details!
Fast forward 10 years later, my husband and I now have 4 children (2 of them born at home!) and I am the Director of Operations. I have had the honor of attending over 500 births, teaching our homebirth class, and overseeing the daily operations of our offices. I have no doubt that God placed this calling on my life, and I am so blessed to have the opportunity to work with wonderful people every day. Currently, I am finishing my bachelor's degree and then will go on to Midwifery school so I can put all the things I have learned over the years into practice!