After having two hospital births with an OBGYN practice I knew I wanted to take an alternate, more traditional and holistic route for the birth of our third baby. Immediately upon meeting the Midwives of NJ I knew I had made the best possible choice for our growing family. Every midwife that I met with was kind, compassionate, and genuine. The quality of care I received during my prenatal appointments empowered me and gave me the reassurance that as the mother, I intuitively knew what was best for the life growing inside me. They supported me through the journey and allowed me to be in the drivers seat in virtually every aspect. I felt so confident in my ability to bring this new life into the world in the most wholistic and natural way possible.
I received the most incredible care every step of the way. The midwives took the time to get to know me and my family and made us feel cared for, seen, and welcomed. They tenderly included our older daughters throughout the prenatal appointments and were patient with their curiosity! I do believe that the time they took to include them made their transition to big sisters all the more positive and smooth.
When it came time to deliver I trusted they would guide me, but I had no idea just how fortunate I would be in their hands! Rushea was simply remarkable. My husband and I are still in awe at not only her skill but her huge heart. She took complete control of the room during labor and reassured me that I was indeed capable. I didn't expect to have a water birth but she knew exactly what my body likely needed and was able to assist and support me through the process- physically, mentally, and emotionally. Thanks to her help I can honestly say that the birth of our daughter was a truly peaceful experience. I have never been so proud of myself and I'm awe of the amazing body I have been given as a woman.
Words cannot adequately express my gratitude to the Midwives of NJ for the opportunity to bring my newest daughter into the world in such a beautiful way. I wish every woman could experience the support, knowledge, and guidance that the midwives offer- there is nothing more amazing and empowering than giving birth naturally. This is indeed what the female body was designed to do! As a result of my experience, I truly believe that the connection I have with my baby is strong and unique- I cannot fully put it into words.
The midwives (and their incredible staff) take great pride and care in what they do and it shows! At the Midwives of NJ you are not just another number in their system, but you become part of their family as you grow yours!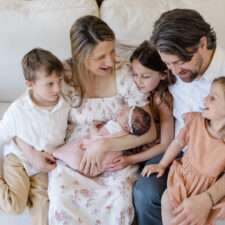 The Midwives of New Jersey are truly remarkable women. After attending an orientation, my husband and I immediately felt peace and knew this was the care we desired. At each appointment and in their birth courses, important information on nutrition and overall wellness was covered. The Midwives answered our questions and answered questions we didn't know to ask. They encouraged the support of a doula, chiropractic care, acupuncture and massage therapy. The wisdom and knowledge they provided through out pregnancy helped me to have a stronger voice in all four of my incredible births. My first birth was a breech cesarean, second a VBAC water birth, third a VBAC breech, and fourth another VBAC where I was able to help catch our baby. Through each birth they gave love, support, and empowerment. This support continued in postpartum appointments, through lactation counseling, and the amazing MotherCare classes. We cannot thank the Midwives of NJ enough for the love they provide and passion they have for women to give birth.
My biggest fear during my pregnancy was being another black women who died during childbirth. When I switched from my OBGYN office in NY to MONJ around 26 weeks pregnant that fear subsided. I felt like I found the perfect team of women who would listen and make this pregnancy and delivery everything I could have asked for (and I was right). Even in my appointments whenever my partner couldn't make it, whoever did come with me felt connected to my journey. I felt empowered and knowledgeable about every step. To the very end in the hospital room, I heard Jackie giving specific instructions to the hospital staff and letting me know that she was with me. It's an experience I will never forget. I cannot wait to continue this journey with this midwife team for my next one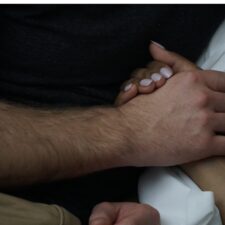 I believe what separates this practice from others that I've experienced is that each person working, from staff to provider makes you feel the passion in their work, which is vital to maternal care. I feel this practice provides care not as a job but as their mission.
I saw the Midwives of NJ from preconception counseling through the 4th trimester. From the very beginning I knew this journey would be different from todays norm of prenatal and postpartum care.
With each visit I felt educated and my concerns and questions were heard. And most importantly I felt that I was empowered through a constant reminder through every visit and every Midwife that 'my body and my mind are capable'. This support extended well into my labor experience where I was able to utilize the tools and education provided to me to have a positive birth experience. Postpartum I still feel continual support as I attend the mother care classes and lactation circle.
I am eternally grateful for the level of evidence based and empathetic care I received and most importantly in complete awe of the amazing providers I've met.
I can't thank Lisa, & Christina enough for taking such good care of me and my little one and helping me through a unexpected pre-labor medical situation while still helping me achieve a perfect birth experience. I'm especially grateful to Lisa for giving me such confidence in my own strength and ability to birth what turned out to be a Big Beautiful 9lb 9oz Baby Boy ♥ I love you ladies and hope to have another amazing pregnancy and birth under your care in the next few years. 😉
I couldn't be happier with the amazing experience I had with the Midwives of New Jersey. I was given the opportunity to have the labor and delivery experience that I wanted. I wish I would have done it with my firstborn. I had a beautiful waterbirth and excellent prenatal care. Every woman deserves to have the birth they want.
Without them I would not have had a VBA2C!!! They are amazing!!!
I had the best experience! After a c-section with my first I was adamant about going all natural with my next. The midwives helped me through the whole pregnancy to stay healthy and when 2 weeks late my little girl was still not excited to enter the world and I thought I would for sure have another c-section…Cindy came up with a plan that didn't require induction and I was able to have an amazing natural birth in 6 hours from start of the first contraction. They go to any means to help you successfully and safely have the birth you desire! I can't wait to have my next one (hoping for waterbirth!). Thank you so much to Cindy in particular but to all the Midwives of NJ!! You are amazing!!!
Love, love, love these ladies and all that they do! I had an amazing first birth experience thanks to all that they do and share with their clients. I don't think I could have been any more prepared. The classes they offer are fantastic and how open they are about everything made us feel so well supported in every aspect. I'm so very glad that we switched to them. I felt so in the dark about everything while seeing a regular Gyno/OB. I am extremely happy that I was able to have the best possible waterbirth I could have ever asked for thanks to these lovely ladies. I wouldn't recommend any other place or people 🙂
These women are outstanding servants who make you feel comfortable and confident leading up to and during birth!
I couldn't have asked for a better group of women to care for me and my baby throughout my pregnancy and homebirth delivery. They were absolutely perfect! They make you feel cared for every step of the way, educating you, and empowering you to have the healthiest natural birth possible. Their support got me through the delivery of my first baby at home, just like I wanted. They guided and supported me and my husband through every step. Even when I doubted myself, they comforted me and gave me the words of support and encouragement that got me through it. I give the Midwives of NJ my utmost highest recommendation, without reservation.
I feel empowered. I feel like the Midwives of New Jersey gave me the tools to have the most natural and redefined birth I could have ever wanted. They have taught me so much about my body, my baby, my labor, and my choices. I truly believe I could not have done it without them. I applaud their practice and dedication to one of the most monumental days I will ever have. Thank You Midwives of New Jersey.
Amazing experience, amazing staff, amazing birth, highly recommend!
The prenatal and postpartum care offered by The Midwives of NJ is above and beyond that which is provided by an obstetrician. From the moment you walk into their office you recognize it as a space for women and supporting women.
My "back up" plan for pain management during the birth of my first daughter was to get into a tub of water. However, in both my first and second births, more than coping with the pain the water helped me when I was exhausted. Both births were long and the water sounded relaxing. Floating in water allowed me to keep my pelvis open and alleviate pressure. In the final stage of birth there was something about the warmth of the water and my ability to float that helped me focus past the pain. And my favorite part is how baby comes out having had her first bath!
I have had two water births- but only my second was with the Midwives of New Jersey. My second experience far surpassed my hopes for a birth experience. Lisa's calmness helped me relax & her guidance gave me confidence each step of the way. The Midwives empower & guide you through pregnancy and birth rather than micromanage or control your experience.
As a side note, before my first birth experience I thought birthing in water would be gross. I was open to the idea but thought I may want to get out at the end. But once in the tub things felt so good I refused to get out. Now I would want birth no other way.
Before I decided to have my own waterbirths, I had preconceived and stereotypical notions about what 'kind' of mothers give birth in a tub full of water. Only 'tree-hugging-hippie moms,' or 'crunchy/ granola mamas' would ever give birth in a tub full of water. I am not either; I am the mother of three beautiful children that love dunking their GMO-filled Oreos in delicious organic milk. Ten years ago, I dreamed of someday having children of my own, but I never imagined myself giving birth in water, nonetheless at home.
The running joke I have with other moms-to-be is that my first born's pregnancy and birth was completely trial and error. Many mistakes were made early on, long before I went into labor. I used an OB/GYN doctor, I had ultrasounds done EVERY single appointment (the machine was conveniently located in his office…cha-ching), and I listened to the voices around me, (family, friends and loved ones…all people that meant the most to me) that using a doctor was the best, and right thing to do. Ultimately, my labor and delivery 'plan' meant absolutely nothing to the doctor on call, while my actual doctor was unexpectedly vacationing. I labored hard and long in the hospital while the on-call doctor harassed me to take the drugs. My body, mind, and others around me (except my husband) weren't working with me. I didn't want the epidural or an episiotomy, but I was no longer in control of my birth and my wishes were not being honored.
Around dinnertime, I gave birth to a beautiful, healthy, baby boy in the hospital, and I was so relieved when my labor and delivery were over. I was grateful for a healthy baby, but I was disappointed in myself for not being able to achieve the natural, drug-free birth I so desperately wanted. My choices at the beginning of my pregnancy affected my overall birth experience and I was adamant that my subsequent births would be different.
When I became pregnant with my second baby, I immediately chose to use the Midwives of New Jersey. My first visit was such an eye opening experience; I could genuinely talk with each midwife and they actually listened to me. When the midwives mentioned waterbirth to me, I thought, "Sure, why not?" The medicinal birth I had the first time around wasn't for me, so maybe a waterbirth would be the right fit. Much of my family, and a few friends, freely and openly felt it was their duty to pollute my head with their worries and concerns about having a waterbirth at home. My husband supported me. He knew how disappointed I was with my first birth and he trusted my choice with the midwives. This time around was different; I chose to be in control of my body, my labor, and my delivery.
Labor kicked in during the early morning hours and the midwives arrived at my house around 8 A.M. Around 10 A.M., they coaxed me into the large, blue waterbirth tub comfortably located in my bedroom. I remembering thinking that I wasn't ready for the tub yet because the labor pains weren't 'black-out' painful, like they were in the hospital with my first born. Stepping into the warm tub was such a relief on my body. My contractions in the water were actually bearable because the weightlessness the water provided kept my body focused and limber. I labored in the tub for about two hours, laughing, making a few jokes, and actually enjoying myself. My husband fed me crackers and cold water during my labor. My body wasn't obnoxiously checked every five minutes nor was it on full display for an audience. I wasn't trapped on my back or forced to labor in a bed. My body could move freely in the tub and stretch in positions not typical of a 'dry land birth.' My body and mind were working together…what a marvelous thing!
My daughter was brought into the world just after noon, on a chilly March day quietly, peacefully, and without the harsh lights and commotion of a typical hospital room. I felt so accomplished and confident in myself and my midwives. The best word to describe my mental state was euphoric. Sure, my body was tired, sore, and exhausted, but my mind was at such peace. I felt such a great sense of pride in myself for accomplishing what I was unable to do during my first delivery, primarily because of such routined medical intervention.
Two years later, my third baby was born at home on another chilly March day just after noon again, in the tub strategically placed in the same spot in my bedroom. Throughout my third pregnancy, I knew I'd have another waterbirth at home. I won't give birth any other way. My body labored almost identically and my delivery was almost exactly the same as my daughter's birth was. Both Cindy and Lisa were in attendance again and everything felt so comfortably familiar.
My experiences throughout my first pregnancy were what ultimately led me to the midwives, waterbirths, and homebirths. I've learned that there's no stereotypical type of woman who chooses to have a waterbirth or a homebirth, and I am regretful that I ever thought that way. The kind of woman that chooses a waterbirth over a typical, medicinal birth, is a woman who values and trusts the experiences of mothers that have already birthed in the water before. It's a woman that trusts her body is able to do what it was designed to do. And it is a woman that values and appreciates the years of dedication, the wealth of knowledge, and the unsurpassed compassion that the midwives have to offer.
Thank you, from the bottom of my heart.
Working with The Midwives of NJ has been one of the most empowering and transformational experiences of my life. From conception,to delivery, to postpartum, working with them has allowed me and my husband to feel intimately supported on a one-on-one basis as well as experience support through the power of community.
The MWNJ community is one filled with people who love bringing new life healthfully into this world. They view health as a multi-layer phenomenon and give equal attention to mind, body, and spirit. They offer a wealth of information to give parents the power of choice. Whatever type of birth you desire, the MWNJ family will educate and support you through your journey without judgement. All of my questions were promptly answered and we were given as much time as we needed for each visit. The MWNJ family was there for me and my husband each step of the way and continue to be. We even received a beautifully edited DVD of our birth as well as gorgeous photographs!
The unmatched individual attention combined with community structure enabled us to obtain the knowledge, comfort level, and confidence necessary to have the birth of our dreams. The MWNJ family created the space for me and my husband to learn about the most holistic approaches to pregnancy and delivery throughout our extended one-on-one visits as well as in a relaxed and interactive classroom setting. We loved learning about diet, exercise, positive affirmations, natural pain relief tools, infant care, breastfeeding, and even parenting philosophies in a family centered environment.
From the start, the MWNJ family wanted to get to know us personally and advised us to align our pregnancy and birth practices with our day-to-day life practices, which resonated strongly with us. They honored our vision for the pregnancy and birth and did everything possible to guide us toward it. My birth would not have been the magical experience it was without their patience, experience, wisdom, and ability to create sacred space.
When I recently called the office to ask a question and update the nurse practitioner Marian, who has become my friend, she told me, "Mara, we knew you could do it all along…all we had to do was give you tools and convince YOU that you could do it."
Thank you MWNJ family for empowering families to experience pregnancy and birth with an open heart, mind, and sense of fearlessness. We are grateful beyond words for your commitment to your clients and your work.
Love,
Mara, Brendan, and Bryce
When we first found out I was pregnant, my husband and I went to my regular doctor for the ultrasound. We then had a consultation with the midwives within a week after. The experience with each was like night and day. At my doctor, I felt like they weren't really interested in me or my pregnancy but just rambled down a list of do's and don'ts and what to and not to eat. My husband and I wanted a God-centered pregnancy and delivery; not a medically-centered one. We felt so welcomed at the Midwives of New Jersey and we felt that they were on the same page as us on this.
Their practice was an hour from where we lived. I wanted a hospital birth since our small apartment didn't seem appealing to me to have our baby. Morristown Hospital was about 45 minutes from our home, which we were fine with. I looked forward to every appointment with these ladies. I never felt rushed during my appointments and felt free to ask any questions I needed to ask. If I had a concern, they never belittled me if it wasn't a "big deal" nor did they cut any corners on explaining anything to us. Also, I loved that in the beginning they gave me a booklet with a dietary breakdown of proteins, sugars, carbs, etc. and how much of each was okay to eat daily. It also had other things explained about pregnancy, which I found very helpful. My pregnancy was very easy and I felt great all nine months!
I went into labor around 4 am on a Sunday. Seeing Lisa our midwife in the hospital was such a blessing and very comforting to us. It was as if it was Lisa's hospital and Lisa's staff. It was as if it was our hospital and everything stopped for our birth (not to sound selfish – LOL!). They were amazing. Between having the peace from God and having this team of ladies so calm and in control was amazing. The attention and care of Lisa, Christina and Ana (the nurse) in general was outstanding and comforting to us. The staff at Morristown Medical worked as one collaborative unit with the Midwives. The resident pediatrician, Dr.LoFrumento, was pleasant and comforting as well! Combine all this with a strong faith in the foundation of Jesus Christ as our care and provider, all the earthly elements came to join the heavenly elements in a flawless birth! First birth, no epidural, no episiotomy, no tearing! No one even mentioned anything about pain relief, which I was very happy about because I didn't want anyone to offer me anything. Our son came very quickly and I was barely in the tub 5 minutes before he came! A beautiful, healthy boy.
Thank you Midwives of New Jersey, Cindy, Kaitlyn, and Lisa….and Ashely and Christina (those whom we've met and dealt with directly) for all your help, care, and assistance…and thank you, Jesus!
This is a note written and re-written. Thoughts simmered into one paragraph can never do justice to what my experience with these ladies has meant to me. They taught me the physiology of childbirth, and changed my life.
Natural childbirth has become a passion I want to share with others. Where once I assumed I would be all about the epidural, I became a mom to two gorgeous water-babies. The births were fast (9 hrs & 4.5 hrs) and I truly believe it was the safe, sacred space I was in, created by my husband and midwife, and the knowledge passed on to me that made me feel there were no surprises in my births.
I went we'll prepared,mentally, which would not have been the case had I stayed with my OBGYN group who told me nothing, and ended each appointment with, "Any questions?" We'll, at that time, I didn't know what I didn't know. What I DO know now is that my children's births were serene, glorious events, and it was an honor to be with these midwives throughout. (And I might mention two noteworthy things – my first birth was when I was 40, the second when I was 42, and we live 90 minutes away!). Maybe we'll get a chance to do it one more time…
I wanted to take this time to greatly thank each of you wonderful, inspirational women. I greatly appreciate the encouragement that was given to me at that time to not let being a single teen parent stop me from becoming great.
I am excited to say, although it took me some time, I will be graduating Nursing school this year. Thanks to the care and compassion each of you give to your patients, it inspired me to be someone and for that I must thank you a million times. I credit extraordinary women like yourselves for the motivation and inspiration that got me where I am at today. I can finally see the light at the end of this long tunnel.
I am currently finishing up this semester on Mother/baby unit here in NY. I love it each and every day when I am on the unit. You inspired me to pursue my goals with hard work and dedication, and look forward to the day I can do the same for someone else.
Again thank you for being such great midwives.
Upon first meeting the midwives, I knew they were the ones for us. I went to the new client open house and Lisa and Cindy brought up so many questions that some couples may have as well as all the answers. I walked away knowing that no matter what situation may arise during delivery that we would be in great hands. It was evident that these three women have an amazing capability to work with one another as a cohesive team, helping new families have the best experience possible.
I looked forward to our visits as I felt so comfortable bringing up anything I wanted to talk about whether it be a medical question or wanting to know what the birth would "look" like, what would happen, when would i call them etc.
Our son's birthday was one of the most amazing days of my husband and my lives. Lisa came to our home and did such a great job of letting me know she was there for me while also giving me and my husband space to labor on our own. I didn't even ask her to do this, it was as if she intuitively picked up on what I needed and when. Roxanne came later and the two together helped create a birth better than I could ever have dreamed of. Our son Wyatt was born lovingly at home in a birthing tub. In addition to helping us have the best birth experience, they gave us a cd of the most beautiful pictures we could ever ask for set in a slideshow to music. I play this video often and am instantly brought back to one of the most powerful days of my life.
Thank you, thank you, thank you to all the amazing women at the Midwives of New Jersey.
Our experience with the midwives was an incredibly positive one. My husband and I are so thankful to have found this wonderful practice. We began seeing the midwives after our second miscarriage. We were feeling defeated and did not know where to turn. During our very first meeting with the midwives, they recommended a natural fertility doctor for us to call. Three months later, we were so happy to be pregnant again and to begin regular visits with the midwives. We felt so supported and confident that this pregnancy would be a successful one.
Going to our appointments always felt like a visit and we really appreciated how humanizing they made my pregnancy and birth experience. The midwives assisted me in having a natural birth and made my husband and I feel confident that, God forbid, if anything went wrong they would use interventions they deemed necessary. When I was in labor we felt like I was in such great hands and, although we planned to have a water birth at Morristown hospital, we wound up having a surprise home birth since our daughter came so quickly! With the big switch in birth plans the midwives kept us calm and peaceful in what could have been a stressful situation. We not once felt like my baby or I were at risk.
The midwives really educated me on making healthy decisions during my pregnancy to best prepare for bringing our baby into the world peacefully and naturally. The midwives focus on diet and exercise during pregnancy and even offer prenatal yoga and fitness classes that I loved taking. It was helpful to meet other first time mommies in the area and I truly believe that the classes helped my labor and delivery go more smoothly. The midwives also have a Mother's Group where the topics range from cloth diapering and baby carriers to infant massage to cookie exchanges! Again, the group is great for meeting other moms and I found the topics really helpful. Regarding preparation for birth, they have childbirth classes and a breast feeding class that were all very educational and extremely useful when the big day arrived! Even after the birth of our daughter, I took advantage of postpartum classes, mom/baby exercise classes, and an Ina May Gaskin movie night. These opportunities are what I love most of all about my experience with the Midwives of NJ. I value the sense of community that they render through these unique classes and groups.
We are thrilled with the care we received and recommend this practice to anyone who is looking for a natural approach to pregnancy and birth. They truly supported and educated us in our journey of achieving a healthy pregnancy, and, ultimately, welcoming our precious daughter into our lives!
When I found out I was pregnant with my first child, I immediately decided I was going to get an epidural and for a majority of my pregnancy I saw a local OBGYN for my prenatal care. When it came time to take a birthing class, I took one offered by the midwives per recommendation from a local nurse.
By the second class I decided I wanted a different birth plan for my baby and myself. At 8 months pregnant I switched from my OBGYN to the Midwives of New Jersey. I figured that if I was going to try to have a natural birth, I was going to surround myself with people that would support my decision and really do their best to help me achieve that goal. From my first appointment I knew I had made the right decision to switch. I no longer felt like just another pregnant woman, the midwives had/have a way of making you feel like your pregnancy is the most important pregnancy in the world to them.
I ended up having a unplanned home birth with my first child (when it came time to go to the hospital, I decided there was no way I was getting in the car). With their years of experience and ability to work well under pressure, the midwives were able to make my unplanned home birth seem as if it was planned all along.
I have had 2 home births with the midwives, delivering 9lb and 10lb babies. I am positive that their kind and confident words of encouragement during my labors were key factors in helping me to have the natural births that I had planned. Because of the love and support that was provided to me through both my pregnancies and deliveries, these women will always hold a special place in my heart. And I thank them for being a part of the most wonderful and empowering experiences of my life.
Daniel McCoy was born at 1:06 PM on 1/06/2012 (couldn't have done that if I tried) @ 8lbs 1oz, 19 ¾ in, long, after 14 hours of 'real' labor. And I wouldn't change a thing.
I will also say that Morristown was incredibly helpful, I wasn't kept waiting for anything and found every nurse to be helpful and informative.
The midwives took great care of me and I would highly recommend them to anyone in the area.
I had the Midwives attend both of my births. My son, Brennan, was born in Hackettstown hospital and my daughter, Avery, was born at home. The decision to have a homebirth was an easy one. As my hospital birth with Brennan was beautiful and natural, I knew I would have been more comfortable at home in my own familiar surroundings. I was right.
At 40 weeks and 3 days, I woke up at 12:00am to my water breaking. Lucky me, it was only a trickle and didn't ruin our bedding! My husband had fallen asleep on the couch watching TV, so I crept out to wake him and let him know my water broke. Since contractions hadn't started yet we both agreed to lie back down and try to get some more sleep and wait to make calls until labor was under way. About ten minutes later, my contractions came fast and furious, starting at about six minutes apart. I decided it would be a good time to call the midwives as well as my doula, Memory. I was on the phone with Lisa, still able to carry on a conversation, breathing through my contractions. She told me she was going to start getting her stuff together and to call her once things picked up a bit. I don't think ten minutes passed before I called her back and simply said, "LEAVE NOW." She still jokes with me about how any and all personality of mine went out the window. This was a dead giveaway that I was in fact progressing.
As my son was peacefully sleeping, my husband began setting up the tub downstairs and I listened to my birth mix on my iPod as I gathered some last minute items to bring down with me. This is when labor really picked up. I had expected to have plenty of time getting in "the zone", but God had other plans. I bolted down the stairs and shoved the Ipod docking station, bottles of shampoo and bars of soap into my husband's arms and immediately hit the floor to work through a contraction on my hands and knees. The contractions started coming one on top of another, and I felt as though I was in transition, but thought there was no way I could be that far along this soon. I picked up the phone and called Memory to hear her comforting voice and see how far away she was. During the five-minute conversation, I must have had three contractions.
I found comfort in laboring on the floor on my hands and knees. Once Lisa arrived, Memory came in right behind her. They quickly and quietly carried in all of the supplies as I was laboring. My doula rubbed my back as Lisa finished setting up. A moment later, I whispered to Memory, "I feel the need to push" which immediately followed with a grunt and a PUSH (I'm still clothed and kneeling on the floor by the way). Memory yelled, "LISA! She's pushing!" as she pulled my pants down. Lisa checked me and sure enough- I was 10cm!
Our tub had about two feet of water in it, as my labor was so fast, there was not enough time for it to fill completely. It was over my hips and part of my belly and that was all that mattered. I pushed for about 30 minutes with my husband, Roxie, Lisa, Christina and Memory by my side. The scent of lavender filled the room and beautiful music echoed against the walls. Our beautiful Avery Grace was gently and beautifully born at 2:45am at home on November 15th 2011.
Being home meant we didn't have to get pestered by hospital staff all night, could sleep in our own bed, and eat our own food. The midwives stayed for a few hours to make sure everything was going well. The entire time, they gave us privacy and time to get acquainted with Avery. My homebirth was a beautiful experience and I will never give birth any other way. Roxie and Lisa allowed me to listen to my body and birth my baby the way I wanted to, the way I was supposed to. Their support was paramount to my confidence in the ability to give birth the way a woman is meant to. I truly believe the Midwives are angels sent from God to allow women to feel empowered and able to bring babies into the world peacefully and naturally.
~ Proud Homebirth Mama, Dana Taylor
We are so grateful for the excellent care that we received. The professionalism, support and loving environment that you provided to us allowed us to have the birth that we wanted.
During our prenatal visits we never felt rushed as you answered all of our questions and talked to us about our decisions. You helped educate us to enable us to make informed choices about not only the birth but also ongoing care of our son and spent time getting to know us.
During the labor itself you did everything possible to facilitate our wishes and provided the calm support that was needed for the safe delivery of our son.
Since then you have continued to provide love and support and have brought us the greatest gift possible. Words can't express how grateful we are that we found you and were able to experience this journey with you.
I have been blessed to have the midwives attend not one, but two of my children's births – my son in 2010 and my daughter this past February. My son was born at Hackettstown Hospital after a long and difficult labor with Roxie assisting.
I have little doubt that without Roxie's encouragement, patience and hard work I would not have had the natural, drug-free, intervention-free birth I had hoped for. Waiting until the very last second, my son was born healthy and strong and ready to nurse.
Two years later, Roxie was at my side yet again this past February, along with Lisa, as my daughter was born at home following a peaceful and quick labor, and again healthy and strong and really ready to nurse. Once again it was their encouragement, humor and confidence that carried me through to the end.
Without reservation I can say that the strength these women impart to their patients is nothing short of miraculous. I am grateful beyond words for their encouragement, wisdom and patience throughout my pregnancies and birth and even beyond.