Vitamin D is the Answer to the COVID-19 Crisis
The results of a study published October 2020 in the Journal of Steroid Biochemistry and Molecular Biology "Effect of calcifediol (Vitamin D) treatment and best available therapy versus best available therapy on intensive care unit admission and mortality among patients hospitalized for COVID-19: A pilot randomized clinical study" are just what we need to need to hear.
This fabulous study highlights the fact that Vitamin D is HIGHLY ANTI-VIRAL. EVEN AGAINST a Pandemic-inducing virus. Even against a NOVEL VIRUS. We can surmise that the healthy human immune system is stronger than the COVID-19 virus and a healthy immune system demands Vitamin D to be at its very best.
A brand new study suggests Vitamin D is an easy, inexpensive way to decrease the likelihood of becoming infected with COVID-19 more for black individuals than white study participants.
Another article published in April 2020 says this about Vitamin D:
"This study demonstrated the importance of using Vitamin D as an endogenous vaccine when used frequently in both healthcare professionals and patients. Therefore, it is concluded that Vitamin D acts protectively in the innate immune system."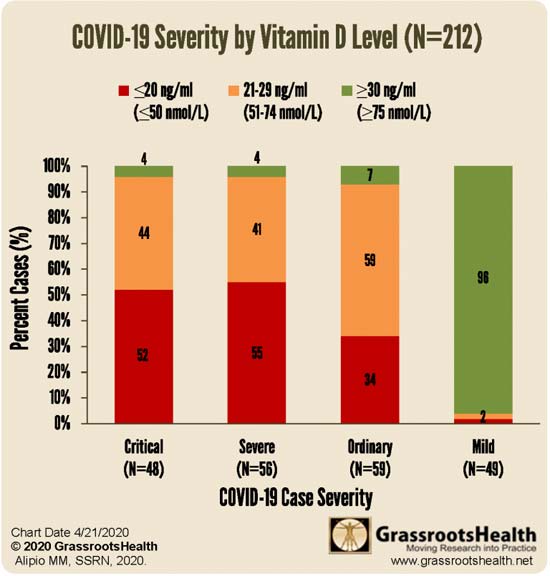 Evidence Points to Daily Supplementation of Vitamin D
Increasingly, evidence points to daily supplementation of Vitamin D as an easy, inexpensive strategy for substantially reducing the incidence of severe disease and death from COVID19, even in persons with comorbidities. About 1 billion people worldwide are Vitamin D deficient.
People most likely to have low serum D levels:
Have dark skin
Are over the age of 65
Work indoors 40+ hours/week
Have a High B.M.I.
Are vegan or vegetarian
Suffer from Depression, Fibromyalgia or arthritis, Irritable Bowel diseases (IBS), chronic headaches
These are the people most at risk for developing severe cases of COVID-19. Many people with sufficient Vitamin D levels may never contract the virus despite multiple exposures.
The Midwives of New Jersey started to routinely check pregnant women's D levels (25-hydroxyvitamin D and/or 1,25-dihydroxyvitamin D) about 15 years ago when a study showed that supplementing with Vitamin D lowers the risk of cesarean section. We thought "if taking a pill can decrease c-sections, we're in!"
At that point, we started to check the serum vitamin D level in every pregnant woman in the 1st and 3rd trimesters. We found that most of our clients' levels were low or barely normal (30-35 ng/ml). We now routinely recommend Vitamin D supplementation of 4,000-5,000 IU/day to our expecting clients, not only for the lower Cesarean rate but for the health of the pregnancy. Here is a post on pregnancy nutrition to help avoid cesarean.
A deficiency in vitamin D is associated with higher incidence of pregnancy complications like Gestational Diabetes, Pre-eclampsia, and Preterm birth. The lowest level I have ever seen was 5ng/ml. I almost fell off my chair and then begged her to take Vitamin D and give it to the rest of her family for the rest of their lives.
How Much Vitamin D Should You Take?
Ask your healthcare provider to check your level before you start a Vitamin D supplement. If your level is already sufficient (30-100ng/ml), you probably need minimal supplementation. Recheck the level about 3 months after starting to supplement. It is a good idea to check the levels to ensure your levels are increasing and not too high. Sometimes a person will not absorb the vitamin well from the supplement they purchase.
You should try to take a very bioavailable (easily absorbed) form of Vitamin D, such as this one, for the best absorption. Food sources of Vitamin D include: salmon, herring, sardines, cod liver oil, canned tuna and egg yolks (chickens need to be free range for sun exposure). You can also find foods fortified with Vitamin D like milk.
Aim for a Vitamin D level between 50-60 ng/ml.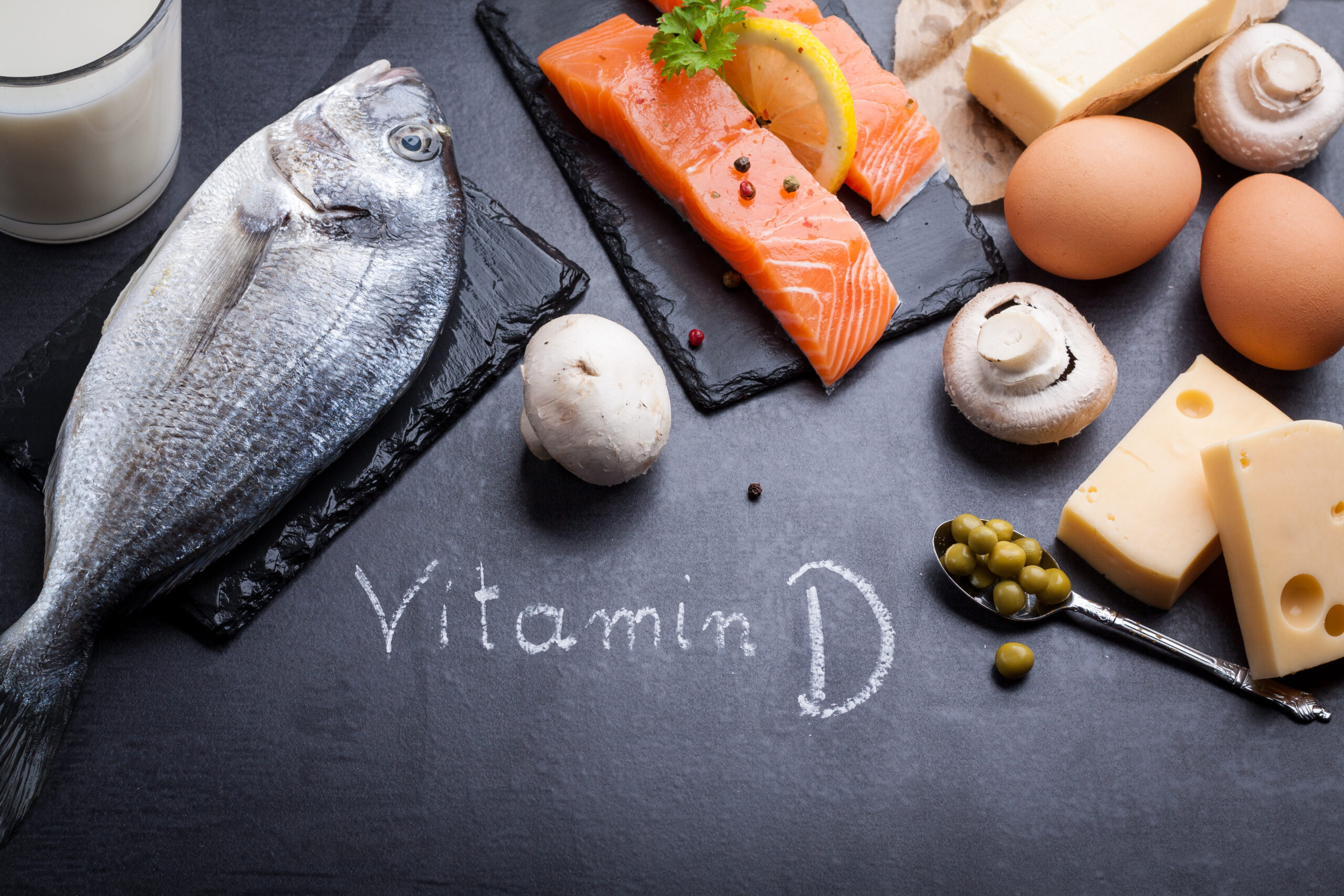 The Many Benefits of Having a Sufficient Vitamin D Level Throughout Your Life Include Decreased Risk of:
Breast and colorectal cancer
Becoming sick when exposed to viruses, even COVID19
Osteoporosis
Depression/anxiety
Obesity
Surgical birth
A well-designed prospective, double blind placebo study using an objective outcome, nasopharyngeal swab culture (and not self-report), and a therapeutic dose of vitamin D showed that vitamin D administration resulted in a statistically significant (42%) decrease in the incidence of influenza infection[15]. Urashima M, et al. Randomized trial of vitamin D supplementation to prevent seasonal influenza A in schoolchildren. Am J Clin Nutr. 2010;91(5):1255–60
Vitamin D Modulates the Immune Response
Everyone in the world learned about "cytokine storm" in 2020. Cytokine storm is not unique to COVID-19; it is a normal immune response with no boundaries. When cytokines are released from macrophages in a normal immune response, there is an inflammatory reaction that helps the body fight off the virus. Macrophages can also release catecholamines which then release more cytokines. The problem is that when the virus or illness is overwhelming an immune system, the cytokine release can be out of control. That causes the immune system to attack its own cells which can result in multi-system failure and death.
Vitamin D modulates the immune response by decreasing the production of inflammatory cytokines and increasing the production of anti-inflammatory cytokines. A deficiency of vitamin D is probably a large contributor to the deadly "cytokine storm" we see in COVID-19.
Sufficient Vitamin D levels may be the reason some people skate through the illness and some people never contract it at all. Since Vitamin D is also used in the creation of antibodies, it makes sense that some people can get COVID-19 again. If they were cured by medical means but do not produce adequate antibodies in their recovery due to a shortage of Vitamin D, they could possibly contract the virus again.
We have seen a decrease in the severity of the virus the past 4-5 months but some of that is probably related to the natural increase in our bodies' ability to manufacture Vitamin D that comes with summer sunshine. The coming winter will begin to deplete many in the population's D level which could result in a worsening of the COVID-19 symptoms again.
From multiple studies from around the world, we have discovered a powerful weapon against a very deadly virus. This can give us hope for ourselves, our families, and our communities that we can finally return to a normal way of living.
I believe that Vitamin D supplementation is a better solution than a vaccine because it has no limitations of viral mutations and it protects against all viral and bacterial infections, not just COVID-19. There is a need to maintain an ongoing, adequate Vitamin D level in all people. I encourage you to spread the word and give the gift of Vitamin D to everyone you know who cannot afford it or who will not buy it for themselves. A great Christmas gift for all your loved ones.
I wish the whole WORLD a happy, HEALTHY 2021!
References
Aranow C. Vitamin D and the immune system. J Investig Med. 2011;59(6):881-886. doi:10.2310/JIM.0b013e31821b8755
"Effect of calcifediol treatment and best available therapy versus best available therapy on intensive care unit admission and mortality among patients hospitalized for COVID-19: A pilot randomized clinical study" MartaEntrenas Castillo,aLuis ManuelEntrenas Costa,aJosé ManuelVaquero Barrios,aJuan FranciscoAlcalá Díaz,bJoséLópez Miranda,bRogerBouillon,cJosé ManuelQuesada Gomezd 24 August 2020 https://doi.org/10.1016/j.jsbmb.2020.105751
https://www.healthline.com/nutrition/vitamin-d-deficiency-symptoms#1
Kaufman HW, Niles JK, Kroll MH, Bi C, Holick MF (2020) SARS-CoV-2 positivity rates associated with circulating 25-hydroxyvitamin D levels. PLoS ONE 15(9): e0239252. https://doi.org/10.1371/journal.pone.0239252
Kohlmeier M. Avoidance of vitamin D deficiency to slow the COVID-19 pandemic. BMJ Nutrition, Prevention & Health. 2020;3:
Ramos EM, Mendes dos Reis FJ, Ramos MV, de Souza ID, Bochenek LDS, et al. Vitamin D produce antibodies in pandemic response to gripal viruses? A critical analysis. Int J Clin Virol. 2020; 4: 023-026.
Rhodes J, Dunstan F, Laird E, et al. COVID-19 mortality increases with northerly latitude after adjustment for age suggesting a link with ultraviolet and vitamin D. BMJ Nutrition, Prevention & Health. 2020;bmjnph-2020–000110.
SARS-CoV-2 positivity is strongly and inversely associated with circulating 25(OH)D levels, a relationship that persists across latitudes, races/ethnicities, both sexes, and age ranges. https://journals.plos.org/plosone/article?id=10.1371/journal.pone.0239252
Urashima M, et al. Randomized trial of vitamin D supplementation to prevent seasonal influenza A in schoolchildren. Am J Clin Nutr. 2010;91(5):1255–60
Vitamin D sufficiency, a serum 25-hydroxyvitamin D at least 30 ng/mL reduced risk for adverse clinical outcomes in patients with COVID-19 infection Zhila Maghbooli, Mohammad Ali Sahraian , Mehdi Ebrahimi, Marzieh Pazoki, Samira Kafan, Hedieh Moradi Tabriz, Azar Hadadi, Mahnaz Montazeri, Mehrad Nasiri, Arash Shirvani, Michael F. Holick, Published: September 25, 2020 https://doi.org/10.1371/journal.pone.0239799
Zdrenghea MT, Makrinioti H, Bagacean C, Bush A, Johnston SL, and Stanciu LA. Vitamin D modulation of innate immune responses to respiratory viral infections. Rev Med Virol. 2017; 27:e1909. pmid:27714929